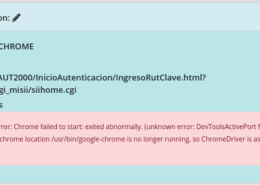 Hola estimados,
Tengo un problema al tratar de ejecutar la accion "Abrir Navegador" (escogiendo Chrome) del modulo Web.
El error en cuestion es "Message: unknown error: Chrome failed to start: exited abnormally. (unknown error: DevToolsActivePort file doesn't exist) (The process started from chrome location /usr/bin/google-chrome is no longer running, so ChromeDriver is assuming that Chrome has crashed.)", como sale en la imagen adjunta
Como contexto, estoy queriendo abrir Chrome y mi sistema operativo es Ubuntu 20.04
Buscando revise que podría tratarse de un problema con Selenium o el driver de google chrome.
Ya intente actualizar el chrome-driver (chrome version 88 de x64) tanto en "usr/bin", como en el directorio "drivers" de rocketbot.
Tambien intenté usar flags como "–headless" y "–no-sandbox" en el archivo google-chrome en "usr/bin", pero obtengo el mismo error.
Como dato adicional, al iniciar rocketbot (dar clic al archivo) no me abre mi navegador por defecto (chrome), y al abrir manualmente la url "localhost:5000" me inicia rocketbot sin mostrar mi numero de licencia, como si me pasaba antes en otro equipo con Windows 10
No se a que se debera este error, pero ya no se bien por donde buscar, espero puedan ayudarme
Saludos!